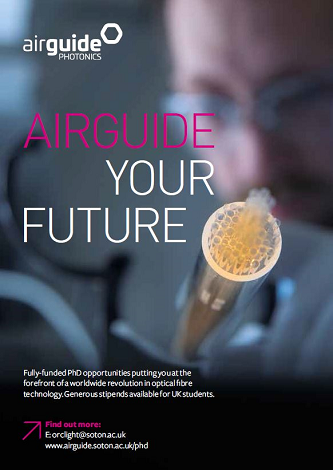 Throughout our five-year programme, a number of exciting PhD studentships will be available. If you want to join us at the forefront of a worldwide revolution in optical fibre technology, please see the list below for current opportunities with us, or take a look at our snapshot leaflet.
Our Airguide PhDs are fully funded, with generous stipends available for UK students. Find out more about postgraduate life at the Optoelectronics Research Centre (ORC).
Highlighted Airguide photonics PhD positions
Ultra-stable fibre optics using new-generation optical fibres
Join us in researching the applications of brand new hollow core optical fibres developed at the University of Southampton. The successful candidate will have significant interaction with the fibre design and manufacturing teams, as well as with potential 'end user' groups, including the National Physical Laboratory in London and several companies in the fields of fibre optic sensing and optical communications, for example. This PhD attracts full tuition plus, for UK students, an enhanced stipend of £18,000 tax-free per annum for up to 3.5 years. 
To discuss any details of the project or arrange a visit, please contact Professor Radan Slavik
Optical frequency combs and hollow core fibres for photonics-based generation and manipulation of ultra-wide bandwidth signals
Work with us to investigate new architectures of photonics-enabled generation and processing of optical and radiofrequency (RF) signals. The work combines technologies related to Optical frequency combs (Nobel Prize in 2005) and newly-emerging types of optical fibres developed and manufactured in the Optoelectronics Research Centre ('hollow core fibres').  Full tuition plus, for UK students, a generous stipend.  Contact Professor Radan Slavik